About Us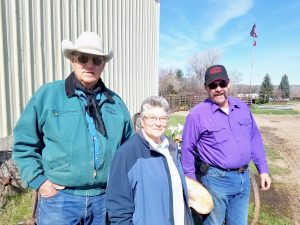 Pass Creek Angus Ranch is located 1 miles south of Wyola, Montana on Highway 451 or 36 miles north of Sheridan, Wyoming. Darrell Rathkamp grew up in southern Minnesota. In 1960, Darrell and his wife, Mary, started in the registered Angus business with six cows and a bull. In 1977, they sold their Minnesota properties and ventured to Montana to expand their herd. They purchased Pass Creek Angus Ranch and raised their three children, Todd, Kurt and Lisa. In 2001, Darrell lost his wife, Mary, to cancer. Later, he was fortunate enough to find another partner in life and wed Ginny. With Ginny and Kurt at his side, they continue to push forward in improving their herd and make Pass Creek Angus Ranch the success it is today.
Now, with Darrell's 60 years of experience in the Angus breed, Pass Creek Angus Ranch will present their 46th Annual Bull Production Sale on April 8th, 2020. Through hard work, experienced genetic selection and a little luck, Pass Creek Angus has developed a group of females to be proud of. Consistently striving for improved carcass, fertility and docility using predictable genetics, Pass Creek Angus will proudly continue to produce a selection of sires that will fit any beef producers program.
To Darrell and Ginny, ranching is not a job or career; it is an expression of who they are and what they love…a life time of achievements. From feeding the herd and watching them develop into that next generation they have so carefully planned, to going to farm auctions and finding the treasured draft horse team or implement that surely will come in handy.
The bull offering for the upcoming production sale is growing at an impressive average of 3 pounds a day. It is not hard to see why their buyers come back each year.
Seasonally, Pass Creek Angus Ranch opens its charms to a Bed & Breakfast and guest ranch. They provide their guests with cabin and tepee lodging as well as fine ranch meals and activities which include wagon rides, horseback rides and other ranch activities. Ranch meals are cooked and served western style at the ranch cook house.
You can help out with daily chores to experience ranch life or just watch. Their goal is to give you as little or as much western life as you want.
Pass Creek Angus Ranch can also customize western adventure trips for you or your group. They like to limit the number of guest to twelve so that all guests get the personal attention they deserve.
If you have special requirements, need a customized trip, or just want more information about what they have to offer, please contact them so that they can accommodate you.
Whether you come to view their cattle operation, making your selection from their superior bull offering for your outfit or just need a break from your busy life, they have an adventure waiting just for you. Come experience the American West with them!
For reservations, Bull Sale catalog or more information, call (406) 343-2551 or send an email to: passcreekangus@hotmail.com.